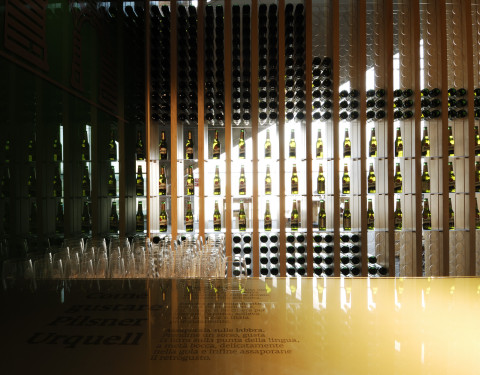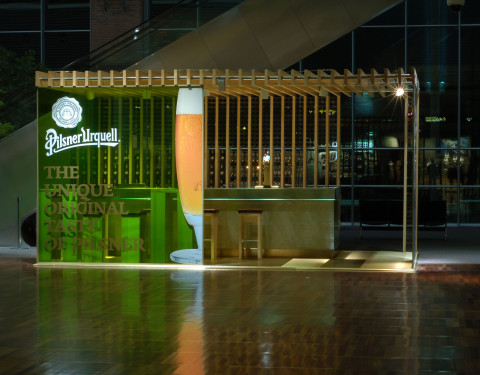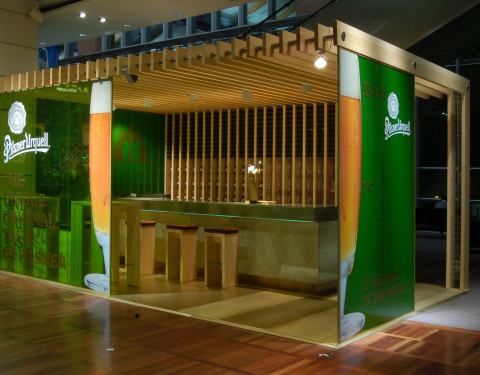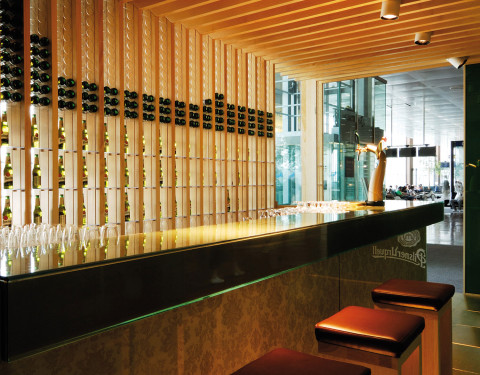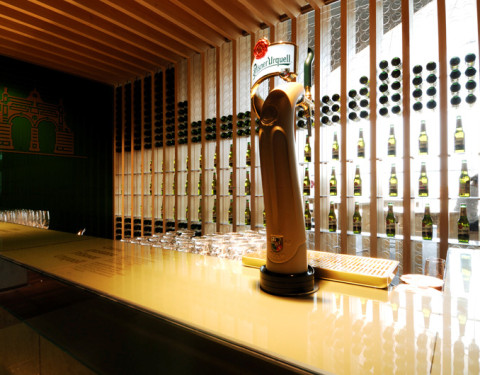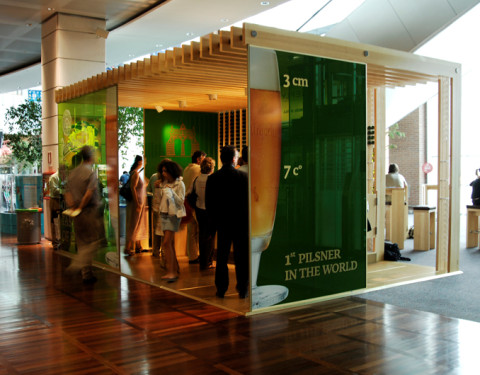 PILSNER URQUELL CORNER BAR
Temporary corner bar for public venues
Aeroporto di Venezia, Italia
PAT.
Bellissimo (graphic design)
PIU' INFO
A beer venue in which you can see the world? Or a conceptual installation where you can enjoy a Pilsner? PAT. and Bellissimo made the two into one. With a bar conceived as an extra check-in at Venice airport, the Italian doorway to Eastern Europe. To travelers, the installation offered a boarding pass to the world of the most classic of all beers (and the best according to experts). At the core, Bohemia and its iconic brand: Pilsner Urquell, winner of countless awards, and first "Pils" in the world. Carefully dodging romantic stereotypes, we brought back Czech atmospheres and geographic settings with photographs, documents, old industrial and textile patterns.
We designed a wooden structure: a beer garden wrapped around its own inviting and cozy heart. We knew a simple taste of the quality of this Pilsner would speak louder than words. We just wanted to give it the staging it deserves.
From "Nulla è vero". A book about Bellissimo. The design integrates structure, technologies, and communication.
Every element has both aesthetic and functional reasons. We wanted to create a brand experience on multiple layers, from the explicit to the subtle, in order to touch a deep emotional sphere. The pavilion character is dictated by the wooden structure, composed of a series of angle brackets which define both the roof and the background wall for the bar, creating a warm, cozy environment set apart from the airport frenzy. While spotlights of different intensity are concealed between the roof beams, pierced plexiglass sheets between the wooden posts create a rack for the beer bottles.
The rack, not unlike those familiar in sophisticated wine bars, plays different roles: on an emotional standpoint, it equates the beer to quality wine, on the functional level it conceals the back of the bar from passers-by and works as storage for a corner bar which has no back office. The other three sides of the pavilion are transparent, only partially screened by bottle green glass sheets which support the roof, as in a castle of cards.
The minimal design and scenic lighting deliver a contemporary, art gallery look which glorifies the quality of the product, while the use of natural materials reinforces the perception of the unique character of the brand.